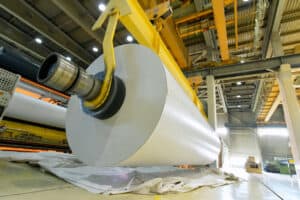 Broad application requirements call for an engineered approach at every touchpoint. That's why proper design and manufacturing are crucial for successful installation, start-up, and ongoing performance. These key elements are good to keep in mind when assessing a doctor system:
Doctor Size and Design: Doctors must be properly sized for the application. Design considerations include roll width, machine speed, harmonics analysis, and space constraints on the machine.
Roll Crown: Doctors should be designed to match the roll crown where applicable. And with that, you need a good roll to start with because a doctor cannot overcome a poor roll.
Loading Pressure: Design and engineering characteristics of doctor holders are important to achieving proper loading pressure, particularly when equipped with pressure-rig loading. The goal should be to execute proper operation with the minimum pressure needed to achieve the desired result.
Oscillation: Most doctor blades clean rolls more effectively when oscillated. The process also helps reduce the risk of scratching or grooving a roll.
Corrosion Protection: Machine position normally dictates doctor back construction material. Painted carbon steel doctors, stainless steel-clad doctors, and solid stainless- steel doctors all offer varying degrees of protection.
Maintenance: Proper maintenance done regularly ensures the doctor system performs as designed and keeps things trouble-free. For example, the service kit for the Essco ETUniform™ conforming blade holder includes all the parts and tools needed to make maintaining the holders easier. The kit contains spare tube fittings and pneumatic couplings, a pressure regulator, instructions, doctor maintenance guide, angle gauges and level, and Essco's exclusive ETUniform™ Tube Puller, which is an easy-to-use tube clamp to pull new tubes through the holder without having to remove them from the machine.
Looking a little closer at the operation side, here are some additional recommendations to help keep things trouble-free
Don't modify, weld, or machine the doctor back. Doing so may affect the integrity and/or performance of the entire doctor system.
Blade material must be compatible with the roll material and hardness.
Always operate the doctor system with minimum blade pressure.
Inspect blade wear often. Change blades before they wear about 15 percent of the original width (3/8 inches to 1/2 inches on a 3-inch blade), or sooner as necessary. This is particularly the case on soft rolls.
Inspect the blade holder slot during blade changes, and clean as necessary.
Check blade alignment periodically and examine a worn blade for evidence of alignment problems. Be sure to check the alignment with rolls in operating position.
Always use a new blade to check doctor alignment.
Remove the blade from service before exceeding its usual life, establish a routine replacement schedule for blades, and keep a record of blade changes.
Replace a damaged blade or damaged holder.
Do not lower a doctor onto a turning roll, and never lower a doctor onto soft press or calender rolls.
Check auxiliary equipment for lubrication, interference, and wear.
Only use high-quality, precision-made blades. Essco blades are machined. Every Essco doctor blade is parallel ground or machined for straightness to eliminate camber. Dimensional tolerances and bevel uniformity are also assured. And every blade is hand finished, deburred, and cleaned for optimal performance on your machine.
Doctors are machined for specific operating positions and conditions. So, don't move a doctor to another machine position without first confirming whether or not the application is appropriate.
Don't increase blade pressure on a worn a blade. This may lift the blade tip and allow material to pass. The best course is to change the blade and observe how it performs before increasing pressure.
Sometimes, newly ground rolls, in particular granite, ceramic, cast iron, and chilled iron, require a wear-in period before blade wear settles down. Blades may wear quickly, unevenly, or streak. Cast iron rolls may benefit from using one or two bronze blades immediately following grinds. Essco can offer break-in advice on other rolls.
Finally, contact Essco for insights on how to best handle particular situations or problems.
Global perspective
There are thousands of Essco doctor blade systems installed around the world, including on some of the world's largest and fastest paper machines. We have in-house engineering and manufacturing and combine that with application insight to ensure our solutions meet all application requirements. That's why Essco is recognized globally as an OEM of doctor systems and products that consistently deliver high performance in demanding environments.
While we've offered guidance here for paper machine performance, Essco doctor blades and scraper blades are vital components in a wide variety of manufacturing applications including metals, food, and materials processing.
So, whatever the application, ensure a job well done with the help of Essco.
Eric Christensen, Sales/Service Engineer